There are many, many wonderful scenic drives in this country and all you need is a car, or some other vehicle, to explore each one. We wanted to build a list of some favorites so we called our friends at Len Stoler Porsche of Ownings Mills,  a local Porsche dealer in Ownings Mills, MD and they recommended quite a number. From this group, we put together a list of eight. Some are likely to be nearby you but some are "road trip" material. Here's our list.
Denali Highway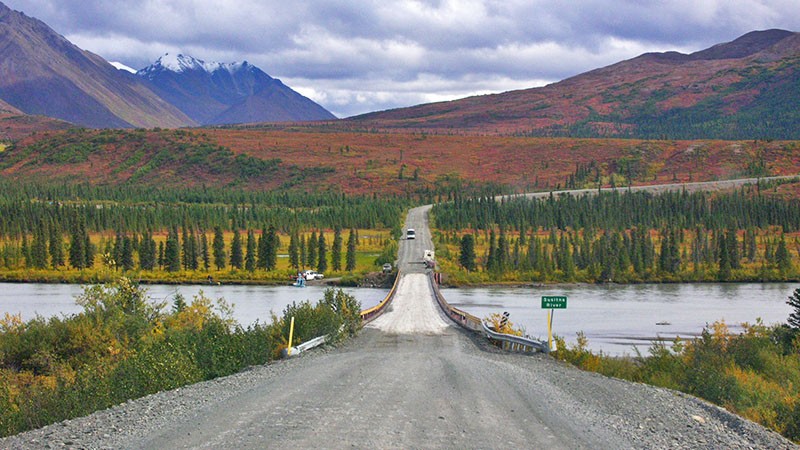 The Denali Highway (or Alaska Route 8) spans 135 miles through raw, undeveloped land Alaska land. Some sections have gravel surfaces and services are few but you'll be treated to some of the most grandiose views in America. Keep your eyes open and you may see moose, elk, bears and other wildlife.
Florida Keys Highway
The highway that snakes through the Florida Keys follows a 117 mile path originally established (1912) when the Florida Coast Railroad stretched all the way from Miami to Key West. The bridges along the route are engineering marvels and stretch over the largest coral reefs in the United States. Many of the islands along the route are home to exotic animals such as the tiny Key Deer. Note: You probably don't want to schedule a trip right away due to the devastation caused by Hurricane Irma.
Pacific Coast Highway
California's coastal route along the pounding Pacific is one of America's most iconic driving destinations. When it comes to stunning scenery, quirky rest stops and the serendipity of wondering what the next bend in the road will bring, few routes are quite like this one. Also known as California State Route 1, the Pacific Coast Highway was built in 1934. It runs for nearly 550 miles, stretching along most of the coastline. For the most dramatic scenery packed into less than half the total mileage, set your sights on the Central Coast and a journey of about 240 miles from Monterey south to Santa Barbara. By the way, be sure and stop at the Hearst Castle when you drive by.
The Silverado Trail
The Silverado Trail begins near the top of San Francisco Bay and travels northward through Napa Valley, the most famous winegrowing region in America. Not only is the scenery breathtaking but a major draw is that you can stop along the way and enjoy wine tastings and tours at any of the dozens of wineries along the route.
Acadia Park Loop
Acadia National Park in Maine is one of America's most beautiful places. The 27 mile Park Loop Road swirls around Mt. Desert Island and offers breathtaking ocean views, rocky coastlines and crystal-clear lakes. You will have many opportunities to stop and go on hikes up into the hills or along the rocky Atlantic shoreline. There are several beaches on this loop and other exciting attractions on the old roads of the park. Take a trip up Cadillac Mountain in the early morning and you will see the first rays of sun that hit American soil each day.
Blue Ridge Mountains
The Blue Ridge Parkway experience is unlike any other. It is a relaxing drive revealing stunning long-range vistas and close-up views of the rugged mountains and the scenery of the Appalachian Highlands. The Parkway meanders for 469 miles, protecting a wide diversity of plants and animals, and providing plenty of recreation opportunities.
Utah's Route 12
Utah's Route 12 passes through Red Canyon, Bryce Canyon National Park, Grand Staircase-Escalante National Monument to its conclusion near the entrance to Capitol Reef National Park. For over 120 miles, you are treated to multi-colored limestone cliffs and red rock formations towering over the road. Seeing the sunset from just about anywhere on Route 12 is an unforgettable experience.