Sometimes car manufacturers develop special vehicle models to make statements about their company and brand. Take the Dodge Viper sports car, for example. This V-10-powered beast was specifically designed to inject life back into the staid, old Dodge brand. The first Vipers were built in the early 90s and the concept worked pretty well because a solid bevy of muscle cars have appeared under the Dodge name since. Let's take a look at the origins of the Lil' Red Express Truck.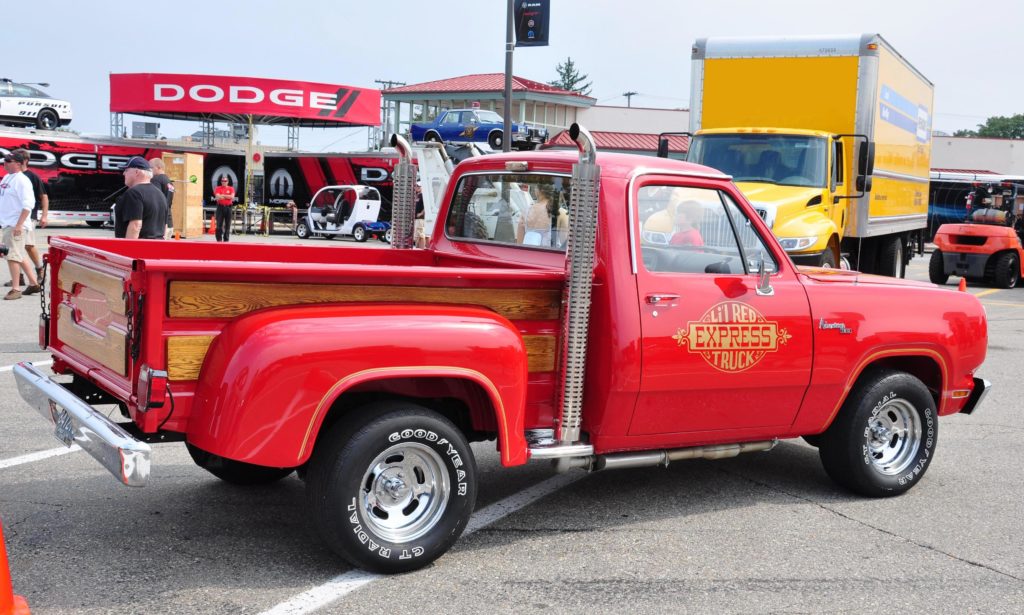 Back in time
Back in the late 1970s, the economy was slow and the car industry was experiencing sluggish sales. The reasons were multifold but new emission control standards and rising gas prices were factors in the equation. To spice things up, Dodge developed their "Adult Toys" concept. Van Auto Group, a Chrysler, Dodge, Jeep, Ram dealer (Vineland, NJ) explained to us that these were created just to put a little fun back into the business. And boy did they.
Toy trucks – check
In 1978, Dodge released the Lil' Red Express. This truck offered fun, toy-like styling and outrageous performance.  Outrageous? In 1978, the Dodge Lil' Red Express was the fastest American-made vehicle as tested by Car and Driver magazine. Yes, this included the Corvette and other American muscle cars.
Wait, a cute truck is the fastest American-made vehicle? It was a matter of EPA emission regulations. Because of a loophole in the regulations, the 1978 Dodge Lil' Red Express Truck did not have to have any restrictive catalytic converters in the exhaust pathway like passenger cars did. What the Lil' Red Express did have was a special high performance 360 ci 4-barrel small block engine (a modified version of the company's 360 ci police engine,) hemi style free-flow mufflers, a specially modified Mopar 727 automatic transmission and rugged 3.55:1 rear axle gearing. Dodge had built the Lil' Red Express to be a high-performance animal and they achieved their goal.
Bold styling – check
For styling, Dodge really went to town. The trucks were painted in fire-engine-red paint and had large "Lil' Red Express" graphics plastered on the cab doors. The truck rode on 15" raised white-letter tires on chrome rims in the front and 8-inch chrome wheels on the rear. The interiors were available in a variety of colors with a standard bench seat or optional buckets available and a matching fold down arm/rest console was an option. Unless you factored in custom cars, there was nothing quite like the Lil' Redc Express Truck on the roads!
Huge sales – not really
As unique as the Dodge Lil' Red Express Truck was, it didn't sell very many copies. As matter of fact, just 2,188 were sold in 1978. However, like the Viper years later, the Lil' Red Express Truck got a lot of press for Dodge  and threw a little fun into the company's product lineup. If you would like to relive this interesting time in automotive history, you can get a classic example of the Dodge Lil' Red Express Truck for some $10K to $15K today.
Photo credit : Dodge