With all of the popular focus on the Jeep and its importance during World War II, it's easy to overlook another wartime vehicle that played a major role during the war: the Power Wagon. Built by Dodge, the Power Wagon was created for use during World War II and thousands were built to assist American and allied troops. We can't disagree with Fletcher Chrysler of Franklin, IN, a full service Chrysler, Dodge, Jeep, RAM dealer, that it would not be an understatement to say that the Powerwagon aided in the eventual allied victory of the war.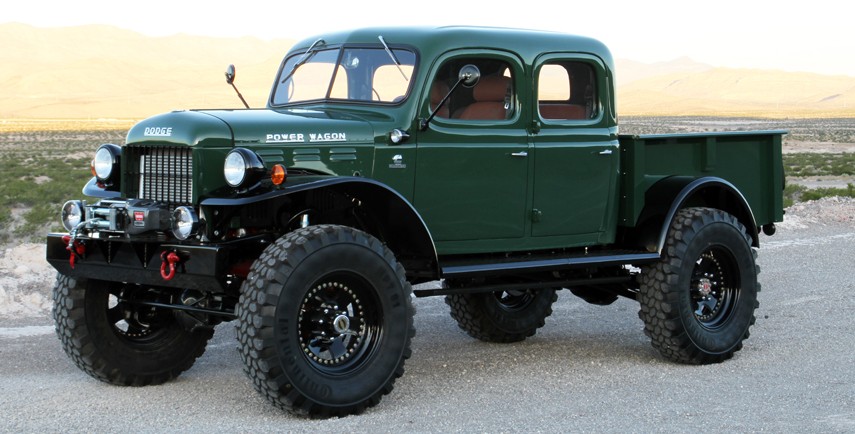 Instantly winning over members of the military with its rugged durability, returning American troops wanted Power Wagons for civilian use. Dodge granted the wishes of the returning heroes and released the Civilian Power Wagon. The Civilian Power Wagon, or Dodge Power Wagon as it is now referred to as, was released shortly after the war ended.  It didn't take long for farmers, ranchers and anyone else whose lifestyle required a level of rugged performance outside of the civilian realm to want nothing other than a Dodge Power Wagon.
First-Series Power Wagon (late 1945 to 1950)
The first civilian Power was released right after the war ended.  The engine used was Dodge's venerable 230ci valve-in-head straight-six cylinder engine. Output was 94 horsepower at 3,200 rpm. In four-wheel-drive mode, the transfer case provided eight forward speeds and two for reverse. Weighing nearly 6,000 pounds and running a 5.83 final gear, top cruising speed was about 45 mph.
The Power Wagon's mobile power source was achieved by using a two-sided power take-off.  Power could be transmitted rearward through the tailshaft or forward to an optional power winch.  A heavy-duty pintle hook attached to the rear of the frame, allowing towing and pulling.
Second-Series Power Wagon (1951 to early 1956)
Model year 1951 saw many rugged  upgrades, including a new pickup bed, and new rubber mounts for the engine, cab and rear. Axle capacities increased and optional, stiffer springs became available. The rear axle capacity was increased from 5,500 pounds to 6,500 pounds, and the front axle went from 3,500 to 3,750.
A new carburetor with a governor was seen in 1952, and engine compression was raised from 6.7 to 7.0:1 in 1953. A year later, a new 230ci flathead six with a redesigned manifold and longer-duration cam brought compression to 7.25:1. In 1954, the base price of a power wagon was $2,307. Model year 1955 saw the introduction of 12-volt electrics and synchromesh transmission. Instruments changed from military style to civilian type and the center of dash had a group of 4 gauges (Fuel, Amp, Temp, Oil)
Third-Series Power Wagon (late 1956-1968)
In 1956, power steering became optional; in 1957, power brakes were offered, and key-actuated starting was implemented. In 1958, buyers could specify a factory mounted 10,000 pound winch.
The Power Wagon was designated the W-300 in 1957, now sharing its nameplate with the more modern-looking W-100 and W-200 Dodge pickups. The generator was replaced with an alternator in 1961, and motor size was increased to 251ci.
Unable to comply with upcoming federal safety regulations, the Dodge Power Wagon, with its two big headlights prominently mounted on the front fenders, was discontinued in North American markets after the 1968 model year. They continued to be built for export through 1978. A total of 95,145 Dodge Power Wagons were built and sold in the United States from 1946 to 1968