Now the Ford Raptor has something of a cult status among pickup trucks, with folks decking out their grills to emulate it's style if they can't actually get their hands on one. But hopefully, as the F150 version is released they'll be enough to go around this time. But before you, part with your hard earned cash make sure you are aware of the Raptor's details below.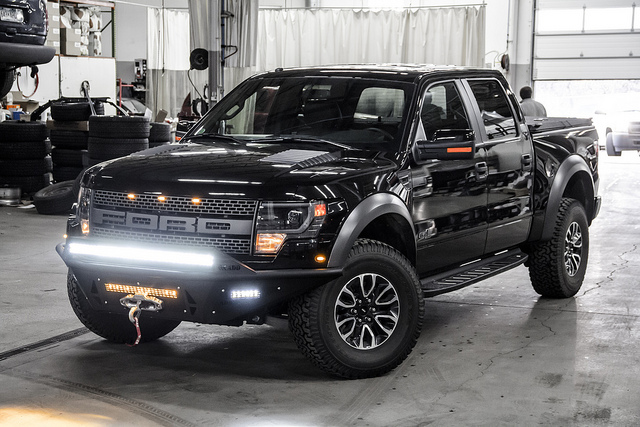 Exterior
Before we start to break down the detailed specs of this vehicle, let's just take a minute to appreciate its burly good looks. The Raptor is a beast of a car inside and out and is definitely not for the faint-hearted.
Sleek it ain't, but it ticks the imposing and futuristic boxes pretty well, so should do nothing but enhance you bad boy, (or girl) reputation.
The pinnacle of this really is the front grill with the Ford logo, emblazoned across the front and a serious lighting rig. So if you are looking for cool, then the F150 is where you'll find it.
Interior
Obviously, when you have such a looker on the outside, you expect the interior of the vehicle to follow suit. Happily, the F150 doesn't disappoint in this area.
The dashboard looks like it's the love child of a space shuttle and commercial airliner. With plenty of dials, buttons and luminescent blue to make you feel like you are in the cockpit.
Then there are the seats, the sporty bucket style seats, with the raptor logo splashed across them. Which means that you get to have a comfortable ride, no matter how tricky the terrain is that you are driving over.
Suspension
Talking of a comfortable ride, then there's the suspension to consider too. The new Raptor has 3" suspension instead of 1.5"  which means it should have a better overall comfort in some situations. But don't be mistaken here, this is still a forecourt bought vehicle. Yes you can off road it, but if you are thinking of entering into a desert race, it's not such as a good idea.
In fact, the vehicle built for racing have elaborate and finely tuned 4×4 suspension, as well as being designed from the ground up for this type of work, so just bare that in mind before you enter yourself in the Baja.
Safety
Now whether you are running the kids to school in it, or challenging the F150 to something a little more difficult, safety is always a primary concern. While we are still waiting fro the IIHS rating to be published, you can be safe in the knowledge that like most new cars the F150 has a range of safety features installed as standard.
Things like front and rear head airbags, 4 wheel ABS and dusk sensing headlamps a, among other things should make this pick up one the safest on the market.
Fuel consumption
Lastly, the new F 150 has been designed with a better fuel consumption that the older molder, This Is in part due to the lighter aluminum chassis, as well as the EcoBoost engine. Of course, pickups are known for being the most fuel efficient of vehicles, so don't expect to pay peanuts to run this one. But as it goes it probably not the worst in its class.